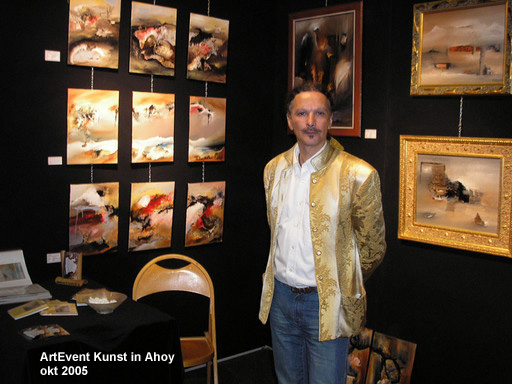 Peace of Art
The dutch artist Emile Snellen v Vollenhoven
www.emilesvv.com or www.dutchartist.nl

Emile Snellen van Vollenhoven ( 1956 ) is an international artist painter from The Netherlands. He is very well known under the name "The Dutchartist". He has had exhibitions around the world in New York USA , Beijing China, Taichung (Taiwan) in Italy ,He has exhibited his paintings in both Belgium and The Netherlands in many locations and also in Indonesia in several different cities and towns. This year (2014) the artist will be exhibiting his work in The Netherlands and also in Malacca, Malaysia.
Emile has won quite a few Art Awards and his paintings are in collections in Beijing in the Cultural Natural Museum and in The Museum of Modern Fine Art in Taichung, Taiwan and in many European Art Collections. He has been living in Bali for almost 9 years. He was born in The Netherlands. His father was Dutch but born in Padang, Sumatra and his mother is Indonesian from Solo, Java. Emile is an Indo.
When you visit Bali you can follow an workshop by the painter. Look by workshop.
Emile is also photographer and you can do photo walks or walking tours with him. Make photos from the nature - from the people - from a balinese model - from the markets - from temples and the culture.
You want a nice art program in Bali including accommodation ? Visit local artists - do different workshops - visit local markets - temples - and walk in the nature with Emile ? Ask Emile when you are interesting .
.
Emile ,Ubud Bali.

Emile Snellen van Vollenhoven(1956)是国际知名的抽象画艺术家,出生荷兰,现定居印尼巴里岛乌布村。他的作品展览世界各地,包括纽约,北京,台湾台中, 意大利,比利时。更有大量展览活跃于荷兰及印尼。 2014年的作品展出包括印度尼西亚日惹及荷兰。在本年11月更会在马来西亚的马六甲作公开展览。 在艺术发展上,他更获得多个奖项。其中颁奖机构包括北京自然文化中心,国立台湾美术馆及多个欧洲大形机构。 欢迎来临参观在印尼巴里岛的工作室,了解多关于emile的资讯:

Emile Snellen van Vollenhoven(1956)是國際知名的抽象畫藝術家,出生荷蘭,現定居印尼巴里島烏布村。他的作品展覽世界各地,包括紐約,北京,台灣台中, 意大利,比利時。更有大量展覽活躍於荷蘭及印尼。 2014年的作品展出包括印度尼西亞日惹及荷蘭。在本年11月更會在馬來西亞的馬六甲作公開展覽。 在藝術發展上,他更獲得多個獎項。其中頒獎機構包括北京自然文化中心,國立台灣美術館及多個歐洲大形機構。 歡迎來臨參觀在印尼巴里島的工作室,了解多關於emile的資訊: