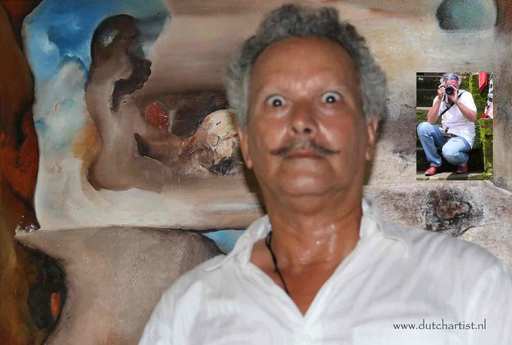 Biography of the artist.
Emile H Snellen van Vollenhoven was born in the Netherlands (the Hague) in 1956.
His Dutch father and Indonesian mother had a year earlier moved from Indonesia to the Netherlands. When Emile was a year old the family moved to the Groningen area. In 1992 Emile moved to Leeuwarden and now he is living in Ubud Bali Indonesia since 2007.
As a small boy Emile's artistic talent was abundantly clear. This talent was fostered and encouraged by his father, who took him as a child to other artists, museums, art galleries and art exhibitions.Emile's world was, and is, filled with creativity and art. Along with drawing and painting, he writes stories, poems and haikus and composes guitar-music and is a good photographer..After his first visit to Bali the striking resemblance between his drawing work and the Balinese artistic style came as a surprise to him. He had never been to Bali and new little or nothing of their art. He became aware that this much be some kind of a genetic heritage. After many visits, he maintains now relations with Indonesian artists and intensifies his knowledge about their art-culture. His work is a definitive own style. He uses life and everything around him as his artistic inspiration. His drawings speak of feelings rather than beauty. He draws upon both cultures in his work, and next to a drawing of a Balinese dancer can you see a typical Dutch houseboat. Every drawing and painting is a unique and intense experience for the viewer.
Emile produces figurative abstracts and surreal paintings. You need to look at this art on two different levels. Firstly with the eyes at the surface of the canvas and then with your feelings and intuition try to uncover the meaning behind it. These paintings show the depth of feeling of the artist and a piece of his innermost spirit is exposed to the viewer. Not only do you have the crossing and mixing of Eastern and Western cultures in his work, but the artist also plays with light and depth. The differences of shade and colour during the day and evening-light are explored to the full.
Emile works to order. His drawing and painting lend themselves to immortalising a piece of personal history. One unusual commission was for a drawing, which was then reproduce in porcelain to adorn a grave. ( Heerenveen – The Netherlands )

( Byron Coleman, Art critic, New York- USA, May 2003)
"... Van Vollenhoven has been honing his technique in private for a long time...., and he unites the spiritual and the sensual in his paintings. His paint surfaces are succulent and his color sense contributes unerringly to the atmospheric qualities of his fantastic landscapes. Indeed, van Vollenhoven's unconventional, apparently autodidactic approach empowers his 'free-form' aesthetic enabling him to pull off formal and symbolic juxtapositions. His anomalies present themselves as perfectly natural, and the viewer is able to suspend disbelief by virtue of the artist's ability to meld them seamlessly within the self-determined perimeters of a highly peculiar compositional logic. He is that rare thing, a sophisticated outsider totally unbeholden to art world trends. Emile Snellen van Vollenhoven is an artist so thoroughly attuned to his own inner vision, that it seems quite impossible to classify him in any historical or currently popular context. His work is indeed 'free-form', and that is its saving grace."
On April 22nd 2001 Emile appeared, accompanied by body painted women and welcomed with great acclaim, at his first exhibition. It was a great self-organized spectacle to present himself to the outside world as an artist. Two years later international exhibitions in New York, Yogyakarta and Antwerpen are following and special offers from art agencies and invitations from galleries from all over the world are pouring in.
"... Given his background, he never forgot Indonesia, homeland of his mother. So it is in Indonesia that he finds a lot of inspiration as well. As for presenting himself to the world, he uses his experience to do this very professionally." (Dr. Boudewijn Brands, art critic, Yogyakarta – Indonesia, April 2003)
To Emile each painting is unique in its own complexity, so he doesn't make large series. In addition, he has a tendency to mystification of the immaterial. This makes his art unpredictable. Emile is the product of two cultures and this materializes in his work. The uncertainty of belonging, the integration of East and West, makes the Eastern mystique beneath the veneer in his paintings evident. Testing boundaries, norms, values and society's rules which he thinks imprison us, thinking and feeling are encapsulated in his paintings. All this manifests itself in representations dealing with religion, erotica, humanity, good and bad, choices, growth and destruction, love and emptiness.Emile paints filled with passion and complete dedication without any feeling of time or struggle. Unless when it comes to an assignment, which requires a rational approach. His private conversations with friends and acquaintances and his motherland the culture and nature of Indonesia are providing him the inspiration for his paintings.

"Van Vollenhoven is not only a great artist, but also a brilliant thinker, a philosopher with the brush. Emile's meditative journeys lead him into the Depth of Reality. "(Dr. Friedrich Demolsky, Art Consultant Sanur Bali - The Bali Sun Newspaper Bali March 2004)

" i am looking at your paintings and drawings with much awe and admiration... They are heavenly.if you agree and allow me, i would like to use one of your drawings or paintings for the cover of my book. "
Anand Krishna -Guru 28 okt 2012

Here is a master artist who knows how to teach without "teaching". John Kielty Bell. UK architect - theater director - artist -Guru - febr 2013